"I failed all eight of my GCSEs – now I am an NHS senior nurse and happier and healthier than ever!"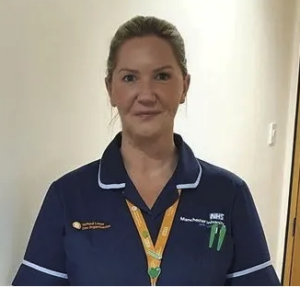 It was GCSE results day this week and one of our senior TLCO nurses shared her story with the local and national media of how she forged a career in nursing after failing all her GCSEs.
Kelly Foster, 42, failed all eight of the GCSEs she sat at 16 years old – but through hard work and following her dream she is now a service lead in our community Macmillan team in Trafford, responsible for managing the Macmillan nursing teams across the area.
She received grades D in maths and F in English and science and was also bullied for being overweight, but this never stopped her from following her dream.
Instead, she spent ten years grafting at college and university – while working and having a family – and now "loves" her job and is "proud of her journey".
Mum-of-three Kelly, from Stockport, Greater Manchester, said: "I hated school, I didn't thrive and I felt like I was trapped in the school walls with no refuge – ultimately I felt depressed and a failure from a young age,
"I was mainly teased throughout both primary and secondary school because I was overweight which was just horrible.
"I'm not the academic type, I'm a practical worker and thinker.
"So, after being told I was lazy, and useless in school, to achieve what I have achieved, I am really proud."
She left school aged 16 in 1997 with zero GCSEs but, with the hope that one day she would follow through with her dream of qualifying as a nurse. Kelly managed to get into college in Stockport where studied GNVQ health and social care, for three years.
She had to pass an intermediate level before her progression onto the advanced course, due to not having the grades, delaying her by a year.
Kelly said: "I was at college Monday to Friday – 9am to 5pm. I would then work most evenings six till 11 at the local Co-op to earn some cash, I was also going back to college one night a week to re-sit my English GCSE because I desperately needed it so I could progress to university."
At age 22, Kelly finally earned her spot to study nursing at the University of Manchester.
"Once I applied, went through the interview process, and got my spot, I was absolutely elated – words can't describe my feelings," she said. "I never thought I would see the day where I would get accepted into university, I always thought it wasn't for people like me," said Kelly.
In 2006, aged 25, Kelly graduated from university as a fully qualified nurse after failing every GCSE almost 10 years prior. She has since progressed in her journey and is now a band eight out of a possible nine. Kelly has also been back to university, successfully completing degree and master's level nursing modules.
What's more, during all this Kelly has found the time to run three half marathons — two of which were done in her nurses' uniform — raising over £50,000 for charities such as MS, Alzheimer's and St Ann's Hospice.
"I absolutely love being a nurse," she said. "It's what I have always wanted to do. It's a very privileged position and it is a privilege to work this job. My journey has only made the satisfaction of achieving all these things even better.
"To students out there who didn't get the grades they wanted, don't let it put you off. Failing isn't the end of the world. You can achieve anything you put your mind to, and if you really want it you can do it. It's your life – it's your story."